Full article REUTERS
As Hong Kong's outgoing leader Donald Tsang looks ahead to retirement, grassroots resentment has boiled over towards the influx of mainland Chinese visitors on a number of fronts, including healthcare and housing, presenting a twilight challenge for Tsang and his government's legacy of symbiotic integration with China. Twenty-eight million mainland Chinese visited Hong Kong last year, around four times the population of the city, many flush with cash and on the hunt for everything from baby formula to hospital beds and luxury brands to high-end apartments. Cross-border marriages have proliferated and Beijing's leaders have bestowed countless economic sweeteners on the city to cement the mainland's embrace of Hong Kong.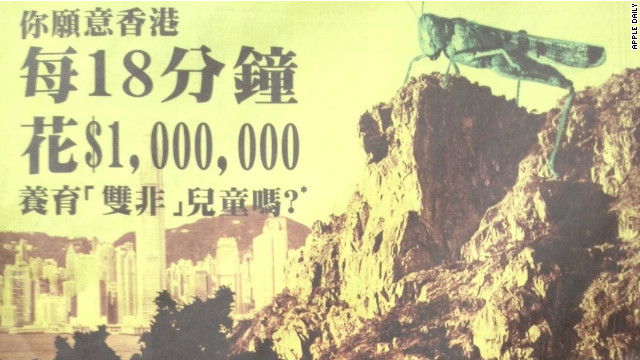 Insults are being hurled across the border, with some Hong Kongers decrying the mainland Chinese as "locusts," while one Chinese professor called Hong Kong people "running dogs" of the British.
FLOOD OF CHINA BABIES
One of the most controversial issues has been that of mainland Chinese mothers flocking to Hong Kong hospitals to give birth, partly to circumvent China's one-child policy and also to gain the right of abode in one of China's most developed and wealthiest cities. A broad provision in Hong Kong's mini-constitution, the Basic Law, grants Hong Kong citizenship to any Chinese born here.
In 2010, of the 88,584 newborns in Hong Kong, around a third, or 32,653 were born to mainland women, up from 620 babies in 2001. The influx has spawned an entire industry of agents shuttling Chinese mothers en masse across the border, hiding them in illegal 'inns' before birth.
This week, a group of aggrieved Hong Kongers placed an incendiary front-page advertisement in the city's populist, mass circulation Apple Daily newspaper, denouncing Chinese women for crowding out Hong Kong's hospitals to the extent that maternity wards are booked solid until September.
"Hong Kong people have had enough!"
The ad proclaimed in large Chinese characters beside a picture of a giant locust on a hill overlooking Hong Kong's skyscrapers and iconic harbour. "Stop the invasion of mainland mothers" it added.
On the other side of the argument, there are signs that more and more mainland Chinese are becoming weary of Hong Kong's favoured status...
"If it wasn't the mainland Chinese treating you like a son, you would have died long ago," a retaliatory advertisement, widely circulated on mainland Chinese microblogging sites in response to the locust slurs.
HONG KONGER OR CHINESE
A confluence of other incidents and issues has also stoked debate, protests and frustration. Many Hong Kongers blame wealthy mainland Chinese for driving property prices beyond the reach of local citizens. Mainland Chinese snapped up around a third of residential flats last year, according to Nomura research, and home prices have risen as much as 70 percent since 2009.
Last year, mainland mothers, spooked by China's toxic melamine milk powder scare, bought up massive stocks of tinned milk powder from Hong Kong stores, leaving bare shelves and anxious Hong Kong mothers scouring shops citywide for formula.
The gripes found another lightning rod last month when a heated argument between a Hong Kong man who castigated a mainland Chinese visitor and her daughter on the city's subway for eating a bowl of noodles, went viral on YouTube.
The feud spurred a Peking University professor, Kong Qingdong, to call Hong Kong people "dogs" for their cultural superiority. His comments incensed many in Hong Kong and triggered a media backlash as well as protests outside China's Hong Kong liaison office.
Results from one of Hong Kong's most respected public opinion surveys suggested growing resentment towards mainland China. A December poll on the extent to which Hong Kongers identified themselves as Chinese citizens first or as a Hong Konger first dropped to 17 percent, the lowest level in 12 years.
-------------------------------
Excellent Blog covering the latest Hongkonger v Mainland issues
http://badcanto.wordpress.com/tag/china/